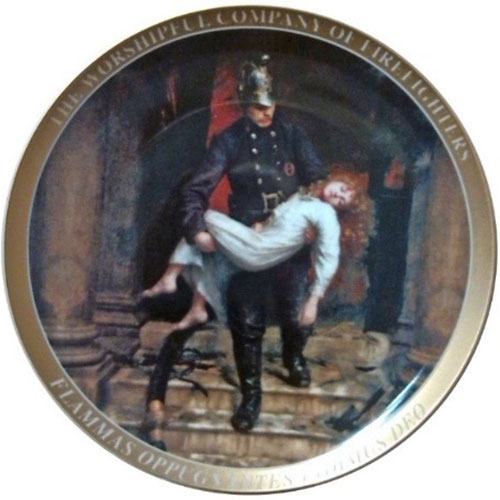 Limited Edition Saved Plate
Price: £39.00 (Incl. VAT if applicable)
Specification / Dimensions: 8 inch Round Plate
The image shown on the plate is from a painting which hangs in the Fire College at Moreton-In-Marsh, Gloucestershire, England.

We are grateful to the owners, the Firefighters Memorial Trust, for permission to reproduce the image, as displayed on the plate commissioned by the then Master of the Worshipful Company of Firefighters, J. E. Lawrence, M.B.E. in the Millennium year, 2000.

The plate was produced in a limited edition of 100 in 2014 and each plate, individually numbered, is supplied with a Certificate of Origin signed by the Master at the time, Bryan Spearman.